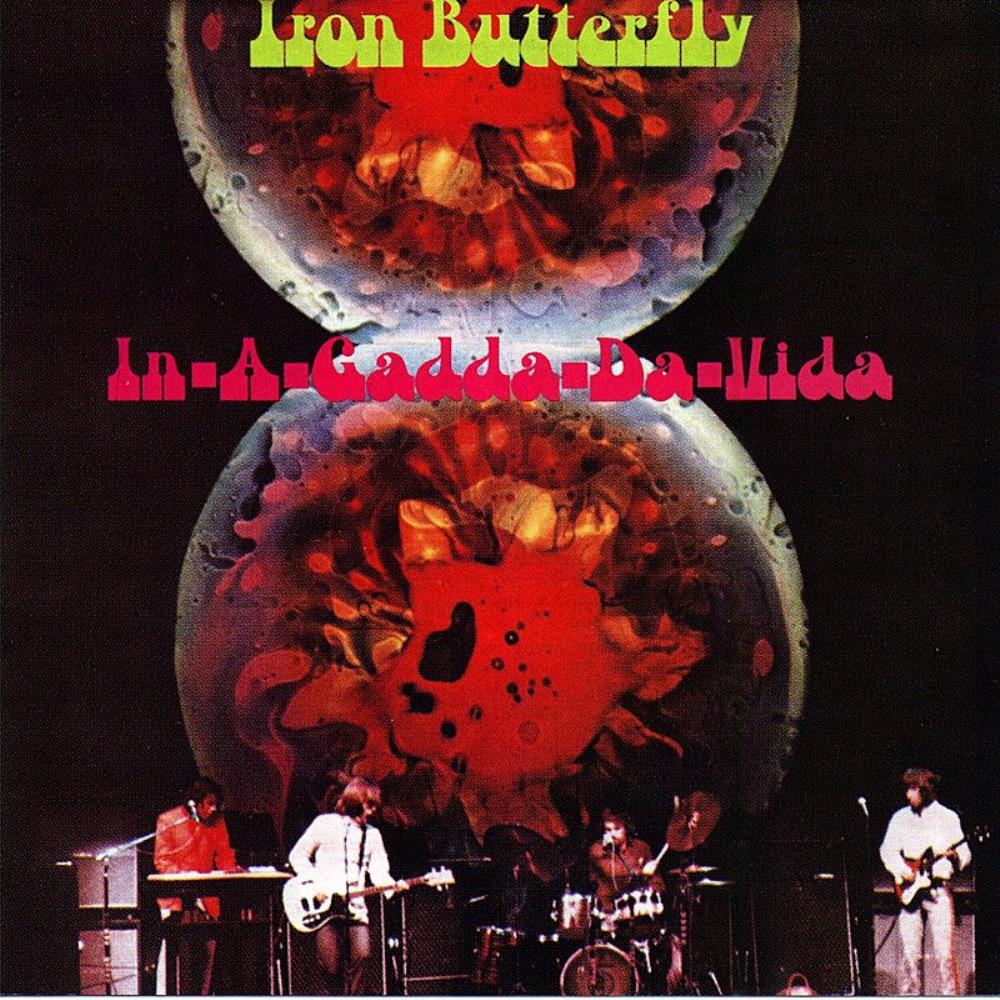 Provenance
: I bought this because it has 'In-A-Gadda-Da-Vida' on it.
Review
: Well, at least
In-A-Gadda-Da-Vida
has 'In-A-Gadda-Da-Vida' on it.
Alright, it's not terrible. Most of
IAGDV
is listenable enough. Hell, I even saw a Butterfly lineup that featured classic-era members Ron Bushy and Lee Dorman play at Arrow Rock Festival, and I enjoyed it. I was especially taken by a track called 'Easy Rider', which isn't on this album.
What
IAGDV
does serve up is a trip through the various flavours of psychedelia popular in the late 1960s. You've got the peppermint 'n' patchouli of the insipid 'Flowers And Beads', coming on like a heavier, less artful Zombies throwaway. There's the slightly more ominous, bad trip psych of 'My Mirage' and 'Are You Happy' - these are fairly engaging, sounding a bit like The Nice or Atomic Rooster. Comparisons with Atomic Rooster are especially apposite as the member who takes the majority of lead vocals, Doug Ingle, has a touch of John Du Cann about his vocal delivery, brimming with portent yet slightly haunted.
But, just like the reviews on this blog, it's a touch ham-fisted. Perhaps its just a symptom of heavy psychedelia of a certain vintage that I'm not used to, but the sudden transitions into the 'wig out' portion of each track is irksome. 'Are You Happy', which has some of the strongest musical ideas on the whole album, is, alas, also the worst scene of the crime.
It should also be said that
IAGDV
has also dated quite badly. I was going to say 'inevitably', but so much pop music of that era still stands up to this day - Motown, Stax (hell, a lot of soul and R&B of the time), garage rock, even a fair bit of the blues rock laid down at the time (such as Taj Mahal's debut, or the Rolling Stones'
Beggars Banquet
) all sound fresh to me. Sadly,
IAGDV
is a museum piece, trapped in amber, deemed too hoary a dinosaur for
Jurassic Park
. To twenty-first century ears (even those as accustomed as mine are to listening to older stuff) the sentiments are twee to the point of cloying and the music lacks any kind of edge. But surely - surely -
IAGDV
is rescued by 'In-A-Gadda-Da-Vida', no?
Ah, a little. Rescued-ish, perhaps.
Yes,
that
riff is immortal. It's incredibly satisfying to crank up the amp, slam your guitar through a fuzz box and wail on that bad boy for a good five minutes. It's also been a mainstay in popular culture; you have probably encountered it, whether in The Simpsons, on a Nas album (he's used it twice so far by my reckoning) or in my favourite example,
the climactic scene to Michael Mann's superb film
Manhunter.
That riff is totally one of the most metal things from the 1960s.
Yet 'In-A-Gadda-Da-Vida' is also seventeen minutes long. To put that into perspective, the studio album version of Lynyrd Skynyrd's 'Free Bird' is only nine minutes. I've argued before that time is a quality of music that can be stretched or constricted for effect, just like any other, but it's a dicey one to fuck with. Much can be excused by playing loud 'n' fast, but to do the opposite - slow, soporific, measured - takes no little skill. Black Sabbath can do it. Electric Wizard can do it. Sunn ())))) can do it. Iron Butterfly can't do it.
The lion's share of the title track should be that devilish minor-key riff and Doug Ingle's slurring, zonked-out vocal. In reality, it's dedicated to Ingle's meandering organ (variously sounding, at points, like a drunk version of 'Tidings of Comfort and Joy' or the
Tetris
theme music on quaaludes) and a drum solo. Not a very good drum solo either (if, indeed, such a thing exists). I can't find the piece right now, but I'm sure I read about Led Zeppelin laughing at Ron Bushy's interminable solo at the heart of 'In-A-Gadda-Da-Vida', and that's a band who weren't averse to self-indulgent percussion centrepieces themselves. I guess - and I'm really guessing here - that if you've taken a few bong rips, or you're staring into the depths of your lava lamp after a tab, all of 'In-A-Gadda-Da-Vida' could conceivably sound cool. I am sitting in my front room with nothing stronger than Dr Pepper (diet, I should add) to aid me. It just sounds boring.
In summary,
IAGDV
isn't bad, but it isn't good either. It entirely bespeaks of a very short time in popular music that has retained its traction within the wider consciousness for a number of reasons - the enduring quality of the music not necessarily one of them. On the other hand - DUM DUM, DA-DA-DA-DUM - DA DA DAA!!!!