Provenance
: This one was definitely bought for me by my parents, seeing as I would've been too spooked to have taken it off the shelves myself! Actually, it was a Christmas present.
Why Rob Zombie? Probably a combination of the cool White Zombie animation in
Beavis and Butthead Do America
and the fact that T
he Matrix
(which featured a remix of 'Dragula' on the soundtrack) was literally the coolest film in the world when you're a boy in your early teens. I managed to download that
Matrix
remix via Napster, which probably took about four or five hours to do.
Before we get on to
Hellbilly Deluxe
, a word about
The Matrix
. I sure as shit didn't really understand it when I first encountered it back in 1999, but I thought those leather dusters looked sweet, an opinion that has
since been validated in popular media
. I recall that the film inspired a slew of doctoral theses, as it certainly tackled some rather chewy themes, but - good grief - it's dated badly. Looking back, it feels like Keanu Reeves got called up for any old cyberpunk caper. At one stage a character gets handed a MiniDisc. The kicker? A Joe Pantoliano starring role in a major motion picture (though I see he's on the slate for the
next instalment of the Bad Boys franchise
, which seems entirely apt). Anyway, long story short, a film that explored all kinds of stuff like postmodernism and nihilism became the lynchpin for a loose confederacy of
women-hating internet racists whose emblem is a sad frog
.
Review
: Before getting into the meat of the review, may we please take a moment to admire this tweet?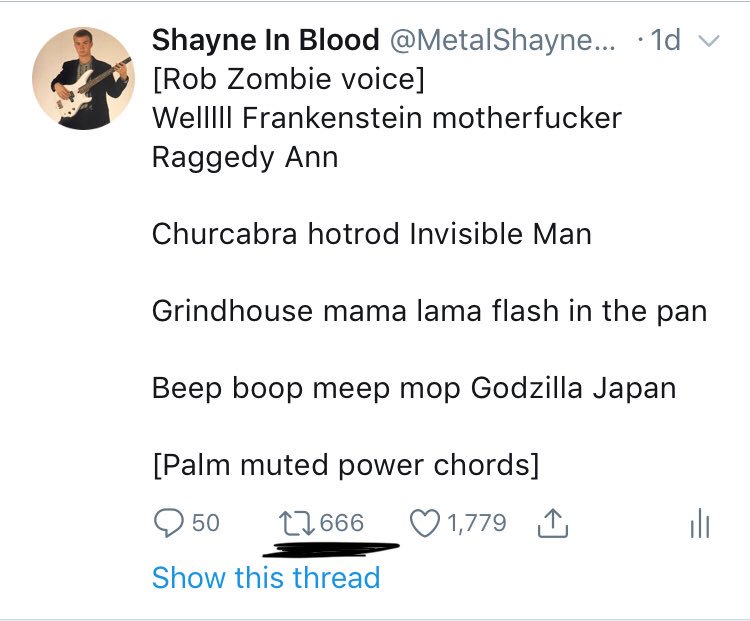 I could genuinely stop now, as I don't think anybody will ever quite be as accurate and pithy as @MetalShayne was (he also posted a very good digest of Bruce Springsteen, sadly overlooked by most of Twitter). The Rob Zombie playbook for Hellbilly Deluxe is pretty much all there - pounding industro-metal, lyrics like a Tristan Tzara cut-up of Amicus and Universal monster movie scripts and his trademark elongated 'welllll' used almost like punctuation. The only aspect missing from the @MetalShayne pastiche are the sound clips ripped from B-movies that either introduce or feature within many of the tracks. Incidentally, these are fun when deployed sparingly, but Zomb slathers them on somewhat.
Sounds like a load of old pony, right? Well, that depends. Does the notion of Rammstein being produced by Quentin Tarantino appeal to you? Exactly, no, that also sounds terrible - so it's a pleasant surprise to plug this bad boy into my stereo and let it rip.
Firstly, despite my avowed preference for pre-1990s recording techniques,
Hellbilly Deluxe
is a big, chunky, scuzzy beast of a record. Production-wise, it actually sounds a little like
Prodigy's Fat of the Land
, albeit somewhat more maximalist. They're like two sides of the same coin -
Fat of the Land
was dance music acceptable to the heavy metal crowd, whilst
Hellbilly Deluxe
just switched that formula around. The Hot Rod Herman remix of 'Dragula' in
The Matrix
is a perfect illustration of how, with just a few bells and whistles, a Rob Zombie track could become
a rocket-fuelled clubland shack-shaker
.
Aside from the creeping tedium of hearing yet another track prefaced with a fuzzy movie snippet, I have only one real bugbear with
Hellbilly Deluxe
, which is that it becomes a little samey quite quickly. Zombie's distorted, growled vocals are appealing, and instantly recognisable, but tracks have to be built around his rather distinct delivery. Nonetheless, there are some real gems here, not least of all the mind-scrambling techno-grind of 'Living Dead Girl' and the pumping, vein-bursting intensity of 'What Lurks on Channel X?'
Hellbilly Deluxe
contains all the schlock and grue one would expect from a Vincent Price or Boris Karloff feature, conjured up into a wall of guitar, buzzing synthesisers and pounding electro beats.
Even at a rather lean 38 minutes the creepozoid interludes between tracks feel skipworthy, but I'd certainly whack
Hellbilly Deluxe
on shuffle down the gym, or perhaps if I just felt like scaring the kids living next door. Overall, the journey is one that is fun, loud, antisocial and a little bit daft - all things a good metal album should be.